"To the world you might be one person, but to one person you might be the world."

Congratulations on your engagement! How exciting and romantic! We believe you deserve a fantastic and romantic wedding day - full of love, emotion and beauty! Don't you? (Believe it or not, that does take some planning, and one of the unique things that separates Forever Yours Portrait and Wedding Studio from all the rest, is we handle a lot of the heavy lifting for you)
This may sound silly, but There is no such thing as a practice wedding.
There is a rehearsal, but it is not the same. You don't get to apprentice and there is no class in High School or College for Wedding 101. You may have been a brides maid and think you have it all under control, but the pressure of the day when it arrives may prove to much to bear. So, there you are super excited and planning one of the most important events of your life and faced with 1000+ decisions and committed to making the day special for everyone (yourself included- don't forget it is YOUR day). You want to create an occasion that your friends family and guest will remember and talk about for years to come.
We realize there is a lot of information to read, watch and see on this page, but you are faced with a big decisions and a lot of work- let's not kid ourselves, so even if you don't choose Forever Yours Wedding Studio as your photographer, we want to make sure you have all your questions answered.

It's YOUR wedding. You may have been dreaming about this day since you were a little girl. Every bride we have ever worked with has one thing in common. They want to make their wedding day special, just like they see it when they closed their eyes. You probably want to make sure all the events and "happenings" fit your personality and that the day flows smoothly from special highlight to highlight.
What most brides don't want to do is make a mistake. Do you feel that way?
We understand that.
Here is a question for you.
We have found that most brides and their moms don't really even know what questions to ask a photographer beyond price. Price is important, certainly. And if all you care about is price, maybe that is the only question you should ask.
Is this the only question you are asking photographers you are calling?
"What do You Charge for Wedding Packages":
IF that is the only question, then is it true that...
It doesn't matter to you how your photographs are delivered
It doesn't matter to you the quality of the photograps of your wedding
It doesn't matter to you if they are focused on your wedding or what time you eat
It doesn't matter to you if they have been trained or have experience
It doesn't matter to you if they Stand Behind their photography with a Guarantee.
If you call a photographer and just ask them that question and they just blurt out the price of a bunch of packages over the phone to you like some sort of robot, do you really think they have your best interest at heart? Are they really going to take care of you and your fiance on your wedding day? Are they really going to care how hard your Mom is working to organize everything and try to help? Are they going to be thinking that they have to get out of there and on to the next wedding rather than focusing on creating the most crucial peice of your wedding story? We are not suggesting the money is not an important factor, we understand that it is, but we want to make sure you are thinking of all that is involved with selecting a photographer...
Have you thought about this:
All the people you commission to help on your wedding day have a role to fill, but..
The one person you hire who will be with you throughout the day before the ceremony, during the wedding and the reception- is your photographer.
Your florist will bring the flowers and leave
Your Baker will drop off the cakes and be gone
Tux and Dress Makers don't attend weddings
Caterers will be there during your reception only
The minister will perform the ceremony, but that's it
and on and on...

We Pride ourselves on being the kind of photographers we would hire ourselves (and we are really picky).
If we were you, we would want a photographer that would have a tool kit developed by a professional with years of experience that they took to every wedding and was prepared to help in any way to make sure the day went smoothly.
(call 624-4029 and we will let you know a few of the items in our Wedding Emergency Survival Kit bag. Our motto is to adapt and overcome like the marines and be prepared like the boy scouts.)
Make sure the photographer who you hire asks you questions about YOUR Wedding. We know photographers who view every wedding as just the same. That's like making all your Chrismas Cookies be one shape. Your wedding is unique, your story may not fit in the ornament shape, maybe the Santa would fit your tastes better. When thinking about investing in a Wedding Photographer (and it is an investment- not just in money-though our wedding programs begin at a very affordable $350.00-, but more importantly, in time, in faith and in trust) there are many factors you will want to consider. That's why we have invested (there is that word again) a whole bunch of time creating the Wedding Photography Lifeline. With our over 20 years of experience in photographing weddings, we understand the challenges and opportunities you face planning a wedding and want to share our insight and experience with you.
"Love is what makes two people sit in the middle of a bench when there is plenty of room at both ends."
Oh, and by the way, our photographers create beautiful wedding images too as you can see in the sample portraits and unique Forever Yours Video's.
All our photographers are trained by Hot Springs, Arkansas Wedding professional photographer Waco Hill.
Waco has over 20 years of experience photographing weddings and personally trains each and every photographer who works with us. Waco became so busy in his own Portrait Studio (Waco Hill Fine Portrait Photography) that he was turning away brides and grooms just like yourself that deserved to have a person with them on the day of ther wedding that would take care of them. Not just "take snap shots", or "pics", but create beautiful creative wedding portraits that tell the story of your wedding, preserving the big and small moments in an artisic and creative photography that will bring tears to your eyes, on your first 10th, 25th and 50th anniversary. So, rather than keep turning special couples like you and your fiance out into the wilderness to fend for yourselves, Waco decided to take on the mamoth task of training an elite group of professional wedding photographers. Utilizing 20 years worth of in the trenches, on the job, rain or shine, techniques and photography skills to train in his secret "ninja" photography techniques that could serve brides and grooms with the same caring and attention to detail that he is famous for.
He brought with him to Forever Yours Wedding Photography all the unique and romantic wedding storybooks and video presentation (and unbelievable special gift you will make your father cry on your wedding day- call Sandy right now at 501-624-4029 and ask her about this special gift for Dad that is done for you). He was the first to introduce the Romantic Storybook Volume to Hot Springs and it has become the most popular album we have ever given.
Imagine turning open the leather cover after your wedding and viewing your wedding day unfold in amazing color and classic black and white. All your portraits creatively arranged by photographic artists to lovingly recreate the feel and the emotion of your wedding. Painstakingly arranged like a giant jigsaw puzzle, each photograph carefully arranged and tested to recreate the emotional feeling through images that you experienced. All supervised by the photographer at your wedding. Nothing is left to chance. Our Wedding Storybook Volumes are more than albums, they are treasure boxes of memories and emotions where you will be able to smell the flowers, taste the food and feel the texture of the fabrics, forever. You really must see one to believe how painstakingly they are created and carefully assembled.
Your Storybook Album is unique, because your wedding is unique.
At Forever Yours Wedding Studio, we create every Story Book Album from scratch. Concept to assembly.
No two albums in the last 10+ years have ever had the same "feeling". "The most amazing fact about The Storybook Album to me is how each one resonated differently," says Waco Hill creator of the storybook concept, "I have found that arranging a wedding in such a unique fashion enhances the portraits in a way that I can't even describe. The Storybook gives them context and makes each individual portrait, which is beatiful on it's own, resonate beyond even what I had in mind when I released the shutter on my camera."
"Don't Take Our Word For It...
...Here's What Actual Area Residents Have To Say."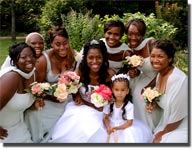 "Looking at my Wedding Album beautifully prepared by Waco absolutely took my breath away. It was exactly what I wanted yet nothing that I expected. It captured every moment: excitement, anxiety, happiness, tears, family, tradition, culture, and most of all Love. With every turn of the page I saw our wedding day unfold. Waco is so talented. he really is attentive to you and what you want and it shows in his work. In addition he is patient, calm and pleasant personality makes an even more wonderful experience. If you want a fabulous, wonderful, professional and timeless wedding album Waco Hill Portrait Photography is the place to go. You will not be disappointed...I Guarantee it!!"
-Raamah and Jason Johnson
Eatontown, NJ (Formerly Little Rock, AR)
So DO NOT WAIT EVEN ONE DAY ON THIS! If you want to talk with someone NOW call TOLL FREE 888-624-4029. There is NO CHARGE AND NO OBLIGATION for this call! You can just chat a bit, see if your date is still available, and then, if and only if you would like to, we can set up a time to get together in person and talk about your wedding. There is no charge or obligation for this, either.
We are here to help.
You may be thinking prices are so high on everything these days, this seems to good to be true that Forever Yours Wedding Studio can spend all this time and give away so much.
How can we afford to do all this for FREE?
Because of our unique no pressure attitude, our amazing photography and our time tested system that takes so much stress off brides grooms and their parents, about 80% of brides and grooms who we give so much of our time and talent to choose (important word there- CHOOSE) to have us photograph their wedding. We don't arm twist, or trick anyone. We are not "salespeople", we are photographers. We only want to work for couples that are truly madly and deeply in love with each other, and who want a smooth stress free wedding experience.
If that sounds like you, just pick up the phone and call us at 624-4029 or Toll Free (888) 624-4029 today just to chat about your wedding and see if we have a photographer available for your date.
Our Amazing Guarantee to You:
"We Guarantee that you will be THRILLED, not just satisfied with your Wedding Photography or we will refund your money."
This is the most powerful guarantee that I can think of. Not some hocus pocus smoke and mirrors guarantee. We have been in business at the same location in Hot Springs, Arkansas, photographing weddings for over 15 years. I want to tell you that we have NEVER had anyone take us up on the guarantee. Not one time have we had to refund any brides money because they were not thrilled with their wedding photography.
Have you ever seen such a promise in writing? No other studio will provide you such a powerful iron clad guarantee.
Now, pick up the phone and call us today at 624-4029 or toll free (888) 624-4029. Chat with one of our wedding experts for no cost or obligation.
I hope that we still have your date available.
You have nothing to lose by calling today. (888) 624-4029
Still not sure if you want to call?
Remeber the call is FREE, and we won't try to "sell" you anything or put any pressure on you. If you are going to call around to other photographers, we understand, this is a big decision, but make sure you listen to the information on our Wedding Lifeline and be armed with all the questions you will need to ask to select the photographer perfect for your wedding.