Dear Friend,
Your family is changing so fast, isn't it? Your children (and yes, they will be your "children" even when they're married and have kids of their own) are growing up, and becoming more like adults every day. Don't you wish you could just "freeze time" and hold these special moments forever?
We Can Stop The Clock. Memories Are The Most Valuable Thing We Own.
Can you relate to this at all? I wake up every morning and wonder where the time is going. Do you ever do that? Have you noticed that, the older you and your children get, the faster time seems to fly?
If You are Like Me, You Never Have Enough Time in the Day to Do The Things That Really Matter To You.
Does this sound familiar at all to you? I am constantly struggling to find the time to do the things that have to be done, while not sacrificing the really important things that are so easily put off. To often I don't do the things that really matter in the long term because I get all caught up in the moment. Heck, it's hard to find the time to get to the studio and have a family or children's portrait created. I understand that. I feel the same way.
BUT…
The problem is that while we are running around busy all day, we are losing all the precious memories that we are creating. Have you ever looked back at an old photograph and had tears well up in your eyes because of the emotion that it reminds you of? Me too. But we just don't have the time to get to the studio and have our portrait taken! Then you have to wait for those dumb "Proofs", then wait for the portrait order to be ready, -Well these are just the problems that I have been working hard to solve. So many people that I have known and care a great deal about feel they just don't have the time to have something as meaningful as custom created portrait. Then they turn around twice, and the kids are grown, Mom and Dad are gone… and I just can't let that happen to you and your family. I care too much.
I think I can help.
How would you like…
-a no hassle portrait studio experience with NO SALES PRESSURE?
-the choice to view and order your portraits immediately after the session- NO Waiting for "PROOFS"?
-your precious images delivered to you on Kodak's Finest Professional Portrait Paper- not some cheap quickie print paper?
-the portraits you order ready in less time than it takes to have a nice sit down meal?
-a DOUBLE GUARANTEE that says…
GUARANTEE #1: you will love the portraits we create for you,
AND
GUARANTEE #2: we will deliver them when we Promise,
or you don't owe one-thin-dime.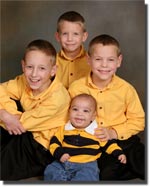 CLICK ON PHOTOGRAPH TO SEE
LARGER VERSION
First, Your Child Takes His or Her First Step. Next, Learns To Ride A Bike. Later, Gets A Driver's License. Graduates From High School. Gets Married. Starts A Family Of His or Her Own.
These are precious times, and although things will change, this moment never has to slip from your fingers.
Don't put this off. You know how life is. We put things off, and before we know it, everything has changed. If your life is half as crazy as mine is, year after year you find yourself frustrated at the things you wanted to do, and never got done. A family portrait is something you deserve.
It's Not Too Late. This Moment, Right Now, Can Be Held Onto For The Rest Of Your Life - For You To Share With Family And Friends.
You don't have to make a big decision right now. You don't have to choose your photographer - you don't even have to decide that now is the time for your family portrait. Just take one small step toward holding onto your family's happiest moments RIGHT NOW.
Just Call Our Studio, And We'll Chat.
Once again, CLICK HERE for our studio number, and you can call any time. If we don't answer, just leave your name and number at the beep, and we'll call you back. If you're thinking of this family photograph as a GIFT FOR SOMEONE, let us know, so when we call back, we only ask for you, and don't spoil the surprise!