Okay - Admit it. You Really DO WANT These Photographs To Look Fantastic, Don't You?
From a graduating senior's point of view, nothing could be more disappointing than not liking the way he or she looks in that super-important portrait that all his or her friends and relatives will see!
On this webpage, I'm going to reveal some powerful secrets to helping seniors look great in their portraits!
Think about this a moment... more people will see this portrait than ANY OTHER PHOTOGRAPH you ever have taken! Yes! Even more than will see your wedding photographs! So you want him to be really proud of it? Right?
Well, research has proven that the two major things that are most important to seniors about their senior portraits are:
1.) That they look really good in the portrait, and
2.) They also want the portrait to have some kind of "artistic quality" to it.
Here's How To Avoid The 5 Huge Mistakes That 9 Out Of 10 Seniors Make With Their Senior Portrait!
Let's go through the 11 huge mistakes that 90% of all seniors and their parents make when it comes to their senior portraits.

Obviously, you should contact us right away about whether or not I have any openings left to create your senior portrait. I am extremely booked up already, but hopefully I still have some openings so I can do your senior portraits for you.

But that's not the point of this website. The point of this website is to give you these 11 major mistakes that most seniors make in reference to their senior portraits. If you don't decide to work with us, that's fine. I still want you to be aware of these major mistakes, so you don't make them yourself when planning your portrait!
Mistake #1 Ruins More Senior Portraits Than Anything!
Mistake #1 is wearing the wrong clothes! This is very normal. Even if the senior were a professional model, he or she still wouldn't know what to wear that would help him or her look the very best in a still photo. The "Art Director" would say what to wear! The "model" would just show up, and do what he's told! The hair person does the hair. The Art Director plans everything and tells the subject what to do next.

You see, people don't know what really photographs well. They just don't know. Well, we know. That's our job. And we love it. And we're really, really good at helping you select the best clothing for your photographs - clothing that will help you look your very best. We will help you with this. Don't worry.
For example, the wrong clothing can make up to a 44 pound difference in the way you look in your portrait! 44 pounds!!!
Now, most high school seniors want to look as thin as possible in their portraits. Clothing makes a HUGE difference in this area, so let's make sure your clothing is really perfect!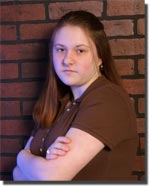 CLICK ON PHOTOGRAPH TO SEE
LARGER VERSION
Mistake #2 - An Amazing Secret Revealed!
Okay, you and I have to talk about blemishes here. If you (or your son or daughter) has some, and who doesn't, you're probably worried about whether or not they will show in this portrait.

The HUGE mistake that almost EVERY SENIOR makes is that they don't ask the photographer about retouching before having the photos taken. I know, every senior is embarrassed about blemishes, and doesn't want to talk about it to ANYONE - especially a person they just met.

But this portrait is really important, and you want to look REALLY GREAT in it, so we need to talk about this blemish thing.

The secret: Be absolutely positively sure that your photographer is going to carefully and painstakingly RETOUCH all your portraits if you want them to.

Mistake #3 Is A "Silent Killer" Of Senior Portraits!
Most seniors don't understand (or don't want to admit) that they get nervous in front of a camera. And they don't know what to do about it.

You see, we like to have fun in our sessions, and we make sure our Seniors have fun too. Our sessions are relaxed, and so our seniors feel at ease, and almost forget they are in a portrait studio.


Mistake #4 Will Ruin Your Senior Portrait
If You Aren't Aware Of It!
Most seniors don't realize that it takes longer than 10 minutes to create outstanding senior portraits.

One of the unique things that separates us from all the other photographers in the area, is that we take all the time that is necessary to create portraits that you will be proud of. Photographs that your friends and relatives will really like - yes like!

That's what we're all about. We're not going to rush you through like it's a factory. We're going to help you through this whole thing. We understand that this portrait is important to you, so we're not going to rush through this.
Now, I know what you are thinking. You're thinking, "Give me a break. This is just a photo."
Well, yes, but it's your SENIOR PORTRAIT, and it's the only one you're ever going to have. And all the people who matter to you are going to see this portrait! So let's make darn sure it's fantastic! Right? And that's what we're all about. That's what's so special about us.

It's not the film we use. It's not the camera we use. It's not the backgrounds we use. (Although we use the best of everything!) The thing that separates us from everyone else, is how sincerely we want to help you look absolutely perfect - stunning - fantastic - better than ever - in your senior photographs.
Mistake #5 Is Of Enormous Importance!
Don't Miss This One!
This mistake has ruined so many senior portraits! It's the mistake of not choosing a photographer who GUARANTEES THAT YOU WILL BE REALLY HAPPY - and who will give you all your money back, if you aren't!

Here's our guarantee: "You will be THRILLED (not just 'satisfied') with your portraits, or we will do whatever is necessary for you to be thrilled, or we will return every penny of your money. No hassles and no hard feelings either. We want you to be THRILLED with your senior portraits, and will spare no effort or expense to see to it that you are! We absolutely guarantee it!"

You see, only a photographer who really believes in his product and service is going to be willing to have such a powerful guarantee. So his guarantee is your first indication of whether or not you even want to work with him. We just can't stress this enough. Ask about the guarantee. Listen to their reaction. That will tell you if you want to trust your senior portraits to that photographer.

So What Should You Do Right Now?
Now, while it's fresh in your mind, pick up the phone, and call us so we can chat on the phone. No charge. No obligation. No sales pitch.

We're not that kind of studio. CLICK HERE to find the number to call. We'll just chat. You can ask us any questions you may have. We'll see if there are any session times still remaining for seniors.

So if anything I have said here sounded the least bit interesting to you, CALL NOW! DO NOT WAIT EVEN ONE DAY ON THIS! CLICK HERE right now to get the number to call.
I Have A Very Special Offer For You...FREE!
(But ONLY if you're one of the first 49 people to call us!)
As long as you are one of the first 49 people to call us - just to chat - We will make you a FANTASTIC OFFER! You can save 50% off the creation of your senior portraits (or those of your son or daughter)! That saves you a bunch of money! But you'll need to act quickly!

Call right away. We can't wait to talk to you about your senior portraits!

CLICK HERE.




PS. Call us now. We have an excellent reputation in the community, and we'll take really good care of you. So call us today. We'll just chat. No charge, no obligation, no sales talk. But don't put it off. I know that at this moment, you aren't sure about your senior portraits. That's fine. But, please understand that because we spend so much time with each one of our seniors, we only have 49 session times remaining for this special offer. Once they are gone, you will not be able to get the 50% discount off the creation of the images. So call right now.